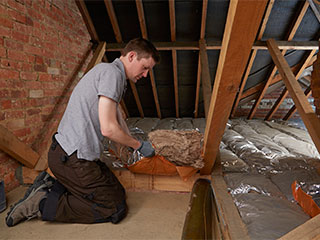 Radiant barriers are important to every structure or building. This simple yet smart and efficient means is usually installed in attics and helps in preventing heat transfer. Since heat transfer always occurs from one area with higher temperatures to an adjacent area with relatively lower temperatures, the barrier is actually a thermal insulation means that prevents heat from escaping when you are trying to heat your house or prevents it from penetrating into the house when you are trying to keep it cool. On one hand, the structure won't get overheated during those summer heat waves, while on the other, it will be much easier to keep in the heat in those cold winter nights. With the services of Attic Cleaning Mill Valley it is much easier to keep the right temperature in your home or business!
Radiant Barrier Services – Don't let the Heat Hit!
With that said, you can realize how important it is to keep your attic sealed, whether it is your home or business, like stores, shops, and the like. With the services of our experienced professionals you can be rest assured your property is sealed properly and that its protection is enhanced by professional radiant barrier. This will help you keep the desired temperature more easily while saving energy and money.
How Can We help?
Since we've been around the insulation game for a lot of time and have basically experienced every little thing pertaining to it, we can offer professional solutions and radiant barrier services to make sure your home or business are equipped with efficient heat transfer prevention means. Relying on availability, quick response, professionalism, and constant courteous demeanor we are able to provide our clients with effective solutions time and time again.
Your Local Experts
If you're anywhere in Mill Valley and find yourself in need of better insulation and heat transfer mediation, just pick up the phone and give our experts at Attic Cleaning Mill Valley a call. It is time to keep your business and home warm and comfortable – with our professional radiant barrier and crawl space decontamination services! It is much easier that way.