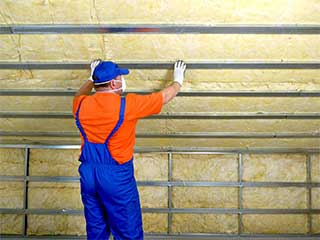 Why Get Your Attic Insulated?
As most people know, hot air rises. However, you may not be aware that this means it'll rise straight out of your attic and escape out of your home. Your heater then must continue to run to keep your house warm, which winds up costing you when that energy bill finally comes. While cooler air may not escape as quickly as heat, it still will disperse if your attic isn't insulated properly to keep your home at a steady temperature.
That's What We're Here For!
If you're going to put the time and effort in to get your attic insulated more thoroughly, you want to trust that the job will be done right. Our company has been around for years, and have a team of professionals that are ready to go. No matter what type of insulation will work best for your home, be it blown-in or a type of fiberglass, they have the experience necessary to put it in.
We know that you don't want to wait around for ages for the process to even start, and you especially don't want people making a ruckus in your attic for long. We will work as quickly as possible without sacrificing the quality of our work. We use the highest quality tools for the job, so you can be sure it's done right despite being over before you know it!
The amount of insulation necessary for your home depends on your location, something called the R-Value. There's no reason for you pay for a heavy insulation job if you live somewhere tropical, and you don't want to wind up with too little if you live somewhere cold! Our trained team will know what the best fit is for your area, namely because they live there too! Thanks to working exclusively around Mill Valley, we know what nearby homes needed to help ensure you get the right R-Value for your household.
What Are You Waiting For?
Don't funnel any more of your hard-earned cash into spiking energy bills! Instead, contact Attic Cleaning Mill Valley today. We'll work with you to determine the best time for us to come out and get to work on insulating your attic. Your only regret will be not calling sooner! We also perform professional attic and crawl space decontamination. Contact us now.
Need more? We also provide:
Attic Ventilation Improvements
Crawl Space Vapor Barrier
Attic Restoration & Animal Waste Removal