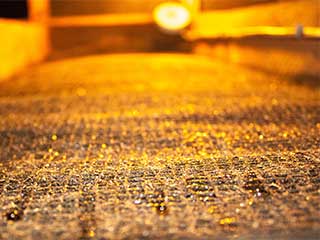 Who doesn't like playing Sherlock? Over the past few weeks, you've noticed your house's heating systems work overtime and are still having a hard time keeping the temperature in the house. You've had them checked and they're working just fine. You've asked everyone in the house to make sure windows are sealed tight, and they are. But still, the temperature is not what it should be, your house is always more pleasant to stay in.
And then your Sherlock senses kick in. The attic! You've had insulation installed a couple of years back, or was it a bit longer than that? You dare to venture into the place where no man has gone before (at least in a couple of years) and find that what once was perfectly fine insulation, now resembles Swiss cheese. What's next? Should you fill the ranks and be done with it? Or maybe the solution lies elsewhere?
Removing Insulation
Your best course of action would be to contact certified professionals that will efficiently and carefully remove all existing attic insulation at your house. Once everything is completely removed and all materials have been carefully discarded and disposed of, other actions can be performed.
Why Should Old Insulation be Removed?
That's a good question. Indeed, why not leave the old layer, even if it's not as effective as it used to be but still manages to fend off some of the unwanted guests that try to come in? Well, the answer to that is a simple one. When there's a way in, even the smallest of holes, water, humidity, wind, heat and rodents will find their way through alright. This means that you might think everything is largely under control, but actually, bad things are happening with you being none the wiser.
So What's the Problem?
Water is great when it stays where it should. But when it gets into places it shouldn't be, it can cause serious problems, starting with mold and malodors and ending with compromised buildings' structural integrity. And that's just water, what about losing heat or rodent problems?
So what does attic insulation removal has to do with anything? Only when you have professionals take everything out and prep the place for new insulation, can you be sure that none of these problems will come knocking on your door.
Call Us for Great Solutions
If you find yourself in need of attic insulation removal solutions, or professional cleaning and decontamination, you've come to the right place. Contact our experts at Attic Cleaning Mill Valley for quick and effective services.