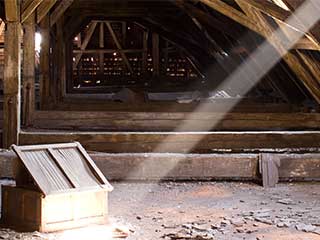 The Importance of Cleaning Your Attic
It may seem like one of those low priority jobs you never want to get around to, but the cleanliness of your attic is important to the health and safety of everyone in your home or work place. Damp, dirt and mold can spread quickly and damage your roof and ceiling structurally, not to mention can cause severe health issues for anyone who spends large amounts of time in the rooms below. That's why you need your attic professionally cleaned out and sanitized at least once a year.
Why Call Us?
Our professional cleaners are trained and equipped to make sure we clean and disinfect every corner of your attic without causing any damage to your home or work place. From the crawl space to the air ducts, we have specialist equipment that can get inside every nook and cranny with ease. And because we are trained experts, our services are safe, sanitary, super quick and affordable. Plus, we contain and remove all the dirt, dust and mold when we leave.
Attic Decontamination Services
If you don't regularly clean out your attic, chances are its home to a long of unwanted house guests: mold, dust, rodents and a variety of insects will be attracted by the dust and dirt and will settle into your insulation bats. Luckily for you, our attic decontamination services will not only rid you of all their filth and disease, but will make your attic unattractive to their preferences. Decontaminating your attic will make sure your roof is sanitary and stays that way for a long time after wards.
A Clean Attic Means A Healthy Home
The ventilation ducts in your home are often routed through the attic, so if your attic is moldy or dirty, so is the air in home below. Dirty or moldy air can cause a variety of slow-onset health issues, from chronic lung diseases, to skin rashes to regular migraines and the longer you breathe in these toxins, the worse they get.
Make sure you regularly get your attic cleaned and sanitized to keep healthy!
We also offer:
Air Duct Repair and Replacement
Crawl Space Rodent Removal
Mold Removal & Prevention